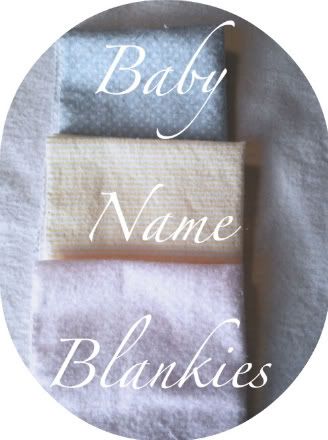 ***********Requests are temporarily CLOSED*******************
Greetings! Welcome to Wrapped up in Hope!
I hope that I can bring you a little comfort with these blanket squares and remind you that there is
hope
.
All blankies are
free
of charge. I do this as a service to bring comfort to grieving families.
((I make blankies color coordinated: pink=girl, blue=boy, yellow=unsure of gender))
Once blankies are mailed I will post a snapshot of them on this site to let you know they are on their way. I can also share your blog/web address along with the picture if you'd like.
*****************************************
To make a request all that you need is:
Requests are temporarily CLOSED
1
. The name of your child to go on the blanket square. Or whatever you'd like on it. (ex. baby smith or baby boy/girl smith) or you could also choose to not have anything written.
2.
Your baby's gender.
3.
Your name and home address or the address you'd like me to send the blankie to.
4.
Your blog or website address if you'd like me to share that along with your picture on here.(optional)
Please email me your request @ jenlynexpo@gmail.com.
Since I make these personalized blankies
free
, any donation that you would like to make would be much appreciated. Material to make and ship blankies adds up. Thank you!
I ask for your patience in getting these sent to you in a timely fashion as this is new to me still. I promise to work and get your own personal blankies sent to you as soon as I can. I pray they give you as much comfort as mine did me!
Thank you for stopping by and I hope you come back soon!